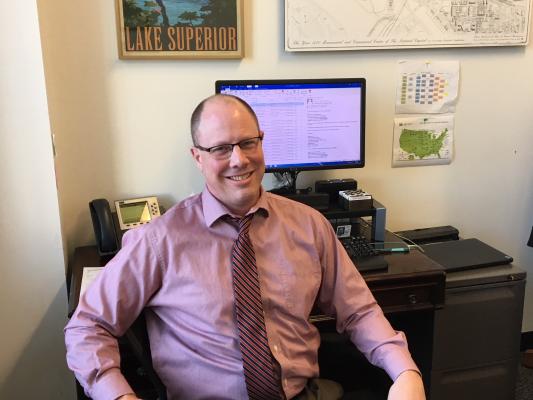 Ed. note: This post is part of a series for Public Service Recognition Week (PSRW) May 6-12, showcasing the vast and diverse work of Commerce employees collectively working together to deliver important services that are helping the American economy grow.
Guest blog post by Doug Lynott, Director of Economic Development Integration, U.S. Economic Development Administration (EDA).
I serve as the first-ever Director of Economic Development Integration (EDI) at the U.S. Economic Development Administration (EDA). EDA 's mission is to "lead the federal economic development agenda by promoting innovation and competitiveness, preparing American regions for growth and success in the worldwide economy." The mission of EDI is to support locally-identified priorities for regional economic diversification, growth and prosperity by increasing access to opportunity, facilitating enhanced collaboration, and reducing administrative burdens. Specifically, my job is to lead in the development and implementation of policies and methods that make it easier for:
Prospective applicants to successfully identify, apply for and manage multiple federal economic development grants and loans; and
Federal agencies with economic development resources to co-invest these in support of multi-faceted economic development projects to produce higher impact and overall benefit to local and regional economies.
As director, I manage two EDI team members here at EDI HQ, where we establish the EDI strategic vision and related policies. These are transformed into tangible outcomes through EDA's six regionally-based EDI experts who incorporate EDI policies and practices into the project development work of their regional office colleagues.
I grew up in the Upper Peninsula of Michigan, a very beautiful, rural and remote part of the country and is sometimes jokingly referred to as either the 51st state, or Canada's 11th province. My hometown is Marquette, which is located on the shores of Lake Superior.  Marquette has a long historic role as a port; iron ore mined in the hills west of the city has been transported to Marquette by train for over a hundred years, loaded onto freighters and shipped through the Great Lakes to steel mills in Ohio and Pennsylvania.
My parents were both social workers. My dad provided individual and family counseling, and my mom provided in-patient and out-patient services for people struggling with substance abuse and addiction issues. They both set an important example for me, as well as my sister and brother, about the importance of helping others. My parents never made a lot of money from their jobs, and while there were many times as a kid when I wished we had more, my parents taught me to be grateful for the good things I do have, and to work on behalf of those who have less.
Throughout my teen years, I increasingly saw my hometown as being remote and removed from political decision-making in both the Michigan and Washington, DC. As this perception grew, so did my own determination to spend my life working to make "the system" more responsive to the needs and aspirations of these people and people across our great nation.
After high school, I left Marquette to attend St. Norbert College in Green Bay, WI, where I earned a BA in English. After graduating, I spent two years working as a youth minister and religious education coordinator for a Catholic church in Appleton, WI. This work was rewarding, but I knew that it would not serve as my final career path. I was still looking for an opportunity to make a transformational difference in the lives of people in need of help, to make "the system" more responsive to their voices. So, I decided to pursue a career in public service, and left Wisconsin to earn an MPA at Michigan State University.
I graduated from Michigan State in 1998, and entered federal service through what was then called the Presidential Management Intern Program. I focused my job search on federal departments and agencies whose programs support the upward social and economic mobility of struggling families. My first job was with the U.S. Department of Housing and Urban Development (HUD), where I became an affordable housing specialist with the HOME Investment Partnerships Program. Following my time at HUD, I held various federal jobs, the majority of which have pertained to affordable housing and community development.
Of all the different jobs I've held, my current position at EDA has had the most potential for transformation and helping people. My job at EDA has allowed me to improve how federal resources are made available,  enhancing their overall impact through interagency collaboration and co-investment. EDA is a small agency, both in terms of total personnel and budget resources, but what I like to tell people is that EDA is able to "punch above its weight class" due to the expertise of its staff, the dynamic and flexible nature of its grant programs, and its nationwide network of community-based organizations. I am grateful for the opportunity this job and agency have given me to translate my personal values into positive action.