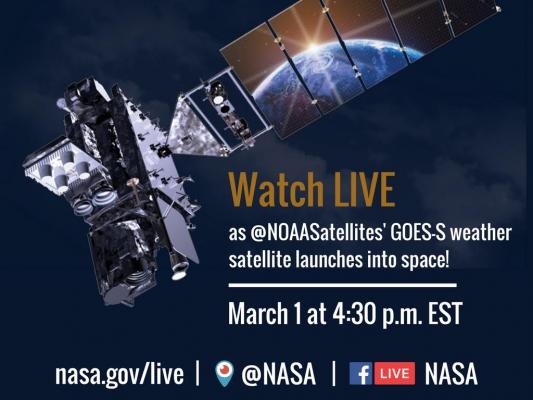 On March 1, 2018, NOAA's newest geostationary satellite will launch into space from Cape Canaveral, Florida. GOES-S (which will become GOES-17 once it reaches its final orbit) will significantly enhance weather forecasting capabilities across the western United States, Alaska and Hawaii and provide critical data and imagery of the eastern and central Pacific Ocean extending all the way to New Zealand.
Live coverage of the launch begins at 4:30 p.m. ET on NASA TV. Visit www.nasa.gov/live for viewing details.
Here are five reasons why GOES-S will be such a game-changer for weather forecasts from California to Alaska and beyond.
Better, faster data means more reliable forecasts: GOES-S will collect three times more data at four times better resolution, and scan the Earth five times faster than previous geostationary satellites over western North America providing better, faster and more reliable data about your local weather forecast.
Tracking Wildfires: GOES-S will provide a "second set of eyes" over the U.S., and provide new wildfire monitoring capabilities. High-resolution imagery will continue to help forecasters locate fires more quickly, coordinate warnings with local emergency managers and ultimately help save lives.
Monitoring 'Atmospheric Rivers' and Pacific Tropical Cyclones: Like GOES-16, which provided groundbreaking new data and imagery during the severe 2017 Atlantic hurricane season, GOES-S will bring this same new technology to the Pacific Ocean.
Fog Detection: GOES-S will provide high-resolution, real-time imagery of fog conditions and the satellite's rapid scanning capabilities will also help forecasters predict when fog will clear. This data will be critical to fishing and commercial ships as well as air traffic controllers in preventing fly delays.
Improved Forecasting in Alaska: Forecasters will be able to distinguish between clouds, snow-covered ground, and sea ice around Alaska's coasts. This will improve aviation and shipping forecasts. GOES-S also will be able to detect volcanic ash making air travel safer.
GOES-S will help the Department of Commerce achieve our 2018 – 2022 Strategic Plan's objective to Reduce Extreme Weather Impacts.