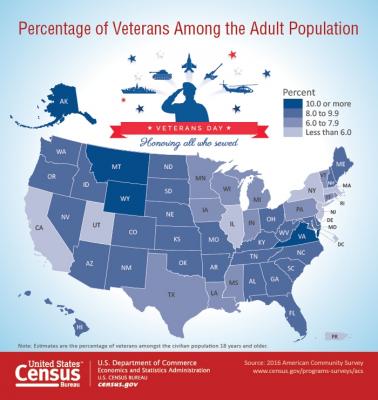 Veterans Day originated as "Armistice Day" on Nov. 11, 1919, the first anniversary marking the end of World War I. Congress passed a resolution in 1926 for an annual observance, and November 11th became a national holiday beginning in 1938. President Dwight D. Eisenhower signed legislation in 1954 to change the name to Veterans Day, as a way to honor those who served in all American wars. Veterans Day honors military veterans with parades and speeches across the nation and a remembrance ceremony takes place at the Tomb of the Unknowns at Arlington National Cemetery in Arlington, Va.
The following are key economic and demographic statistics compiled by the U.S. Census Bureau on our nation's veterans.
18.5 million
The number of military veterans in the United States in 2016.
9.2 million
The number of veterans age 65 and older in 2016. At the other end of the age spectrum, 1.6 million were younger than age 35.
6.7 million
The number of Vietnam Era veterans in 2016. Moreover, there were 7.1 million who served during the Gulf War (representing service from August 1990 to present); 768,263 who served in World War II; 1.6 million who served in the Korean War; and 2.4 million who served in peacetime only.
14.4 million
The number of veterans who voted in the 2016 presidential election. In that election, 69.6 percent of veterans cast a ballot, compared with 60.6 percent of nonveterans. These rates reflect the citizen voting-age population.
398,453
The number of all U.S. employer firms that are majority owned by veterans. Veteran-owned firms comprised 7.2 percent of the nation's 5.5 million employer businesses.
For more statistics on our nation's veteran population, please visit the U.S. Census Bureau's Facts for Features: Veterans Day 2017.