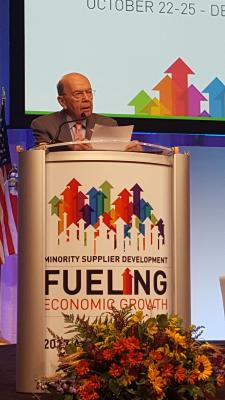 U.S. Commerce Secretary Wilbur Ross yesterday addressed minority businesses from across the country and stressed the need for tax reform in advancing economic growth, empowering small business owners and bringing more jobs back to the U.S.
During a keynote address to the Minority Business Development Agency's Minority Enterprise Development (MED) Week, Secretary Ross reaffirmed the Administration's commitment to the minority business community and its economic advancement. Specifically, he stressed the need to create a business climate in which minority business enterprises can thrive and expand through tax reform.
Secretary Ross also echoed the President's long-standing belief that economic development and empowerment for ALL Americans is vital to the continued growth and advancement of the U.S. economy and the creation of more U.S. jobs. Last week, President Trump proclaimed National MED Week October 22 – 28, 2017, to recognize the contributions of the minority business community to the U.S. economy.
For more than 30 years, the Minority Business Development Agency (MBDA) has led the National MED Week program to convene minority business leaders, government officials, corporate executives, and thought leaders; honor outstanding MBEs and advocates; promote business opportunities; and report industry trends. This year, MED WEEK was held in partnership with the National Minority Supplier Development Council at the 2017 NMSDC Conference and Business Opportunity Exchange in Detroit, Michigan.