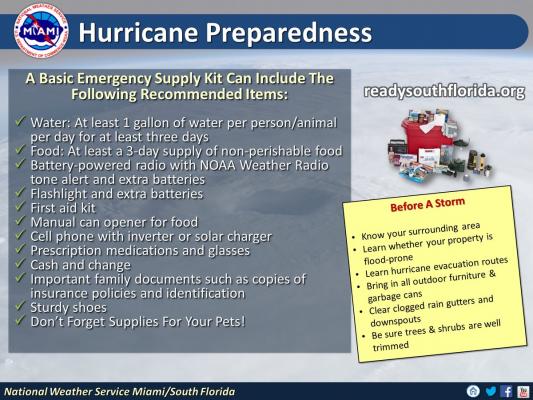 Hurricane Irma is a potentially catastrophic hurricane and will bring life-threatening wind, storm surge and rainfall to parts of the Caribbean – including Puerto Rico and the U.S. Virgin Islands – as well as the Florida Keys, portions of Southern Florida and the Florida Peninsula. Irma is expected to remain a powerful hurricane through the September 9 – 10 weekend.
Take preparation actions now, and be sure you know what to do before, during and after the hurricane: www.ready.gov/hurricanes (en Español www.listo.gov/es/huracanes).
Please heed the advice of local emergency management officials and refer to your local weather forecast at www.weather.gov.
Follow your local forecast office on Twitter for the latest area-specific updates: www.weather.gov/socialmedia
Get live updates from NOAA's National Hurricane Center: www.nhc.noaa.gov
Download the FEMA App for disaster resources, weather alerts and safety tips.