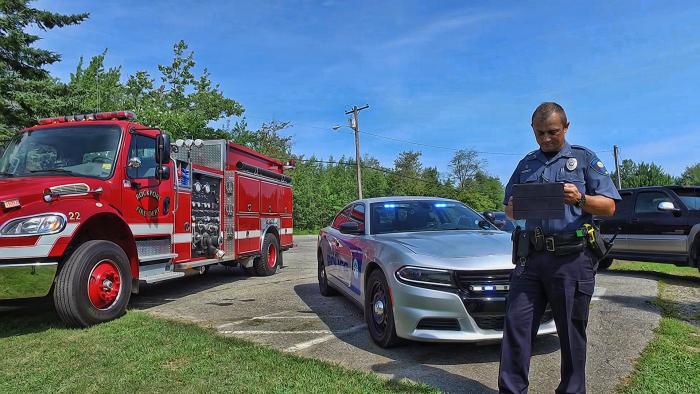 In connection with American Heroes Week (July 24 – 28, 2017), the U.S. Department of Commerce is proud to highlight its own American heroes and the important role Commerce agencies play in serving and protecting American communities.
Right now, an area the size of New York City is ablaze in western Montana. The Lodgepole Complex fire has grown to encompass more than 250,000 acres. Although it is the largest fire, it is only one of 19 currently burning across the state in what has been a particularly intense fire season.
Pushing hard through intense heat, danger and exhaustion are firefighters, police officers, paramedics and other first responders – brave women and men doing everything in their power to protect citizens, homes, livestock and land. These first responders dedicate their lives to protecting communities across our nation and are true America's heroes. And the First Responder Network Authority (FirstNet), an independent agency within the Department of Commerce, is working to equip them with the lifesaving, 21st-century communication technology they need to do their jobs.
Why FirstNet?
Today, in emergencies and at large events, heavy public cell phone use can lead to wireless communications networks becoming overloaded and inaccessible. In those instances, public safety users are treated the same as any other commercial or enterprise user – meaning they can't use their cell phones or wireless communication equipment when they need it the most. That's where FirstNet comes in.
When Congress created FirstNet in 2012, it began fulfilling a recommendation of the 9/11 Commission to provide first responders with a secure, dedicated high-speed network that is available to first responders when and where they respond.
A "fast lane" for public safety communications
With FirstNet, public safety will get a dedicated "fast lane" that provides highly secure communications every day and for every emergency. FirstNet will deliver specialized features to public safety that are not available on wireless networks today including priority access, more network capacity, and a resilient and hardened connection. With FirstNet, first responders also will have access to devices connecting them to innovative, life-saving technologies.
For those firefighters in Montana, and for first responders across the nation, FirstNet can provide vital technologies, tools and services during emergencies, such as:
Applications that allow first responders to reliably share videos, text messages, photos and other information during incidents in near real-time;
Advanced capabilities like camera-equipped drones and robots that can deliver images of wildfires, floods or other events;
Improved location services to help with mapping capabilities during rescue and recovery operations;
Wearables that could relay biometric data of a patient to the hospital or alert when a first responder is in distress.
A vital tool for our nation's heroes
As Commerce Secretary Wilbur Ross noted when he announced FirstNet's selection of AT&T as its network partner: "FirstNet is a critical infrastructure project that will give our first responders the communications tools they need to keep America safe and secure."
As the network deploys this year, it will provide the American heroes of the public safety community the powerful, dedicated communications network they need to do their jobs – now and in the future.