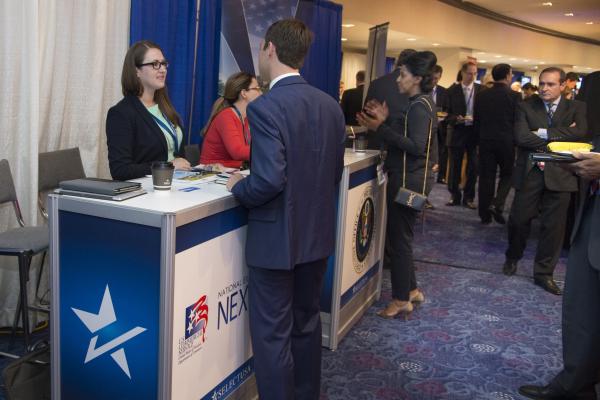 The following is a cross-post from Tradeology, the official blog of the International Trade Administration (ITA)
By Andrew Owusu, Intern, SelectUSA
The 2017 SelectUSA Investment Summit provides a platform to communicate economic priorities and affirm the United States as the number one destination in the world for foreign direct investment. Looking for U.S. economic data and analysis? The U.S. Government (USG) Pavilion in the Exhibition Hall at the Summit will feature representatives from federal agencies that can help participants find and understand U.S. economic indicators. They include:
The Economics and Statistics Administration (ESA) which performs high-quality economic analysis, disseminates national economic indicators and fosters the mission of the U.S. Census Bureau (Census), the Bureau of Economic Analysis (BEA) and the Office of the Chief Economist (OCE). OCE created the Assess Costs Everywhere (ACE) tool for businesses to evaluate locating in the U.S.;
The Bureau of Economic Analysis (BEA) is a trusted and impartial source of data and statistics on the U.S. economy. BEA data is comprehensive and available for free to all;
The U.S. Census Bureau is the leading source of data about the nation's people and economy; The U.S. Census Bureau provides a wealth of demographic and economic data that can help potential businesses make informed investment decisions.
Looking for data specifically on FDI? SelectUSA Stats is a public, free online data visualization tool that allows you to compare data on foreign direct investment into the United States. The tool features interactive dashboards that display graphical data. The data, from sources like BEA, includes useful categories such as greenfield investment by country, stock and flow, impacts on U.S. employment, exports, research and development; FDI trends by industry, country, and state. With a choice of multiple data agencies, attendees have numerous opportunities to pick up practical tools and strategies from expert practitioners in a variety of investment-related fields.
Officials will also be standing by to provide information on workforce and training programs, U.S. exports, supply chain, research and innovation, U.S. visas, and the Global Entry program. Below is a list of all of the federal agencies, along with their booth numbers, that are participating in the USG Pavilion.
A number of U.S. government representatives will also be participating in the matchmaking system, so interested attendees will be able to request meetings and learn more about the various resources that the agencies offer.
There is still time to register! Head over to the Summit website to apply for registration to the top FDI event in the United States. If you are unable to attend but would like information on SelectUSA and our services, please visit our website or contact us.