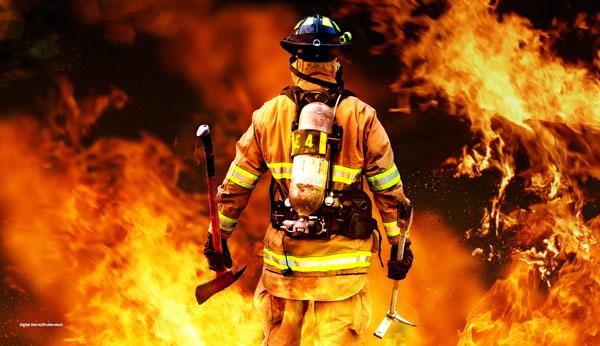 The following is a cross-post from the First Responder Network Authority (FirstNet) blog
May is an ideal time to thank our nation's first responders. There are several events this month dedicated to recognizing the hard work and life-saving sacrifices our fire service personnel, law enforcement and emergency medical technicians do every day.
May 4th marks the annual International Firefighters Day, which was first observed in 1999 after five firefighters died while trying to contain a wildfire in Victoria, Australia. It includes an international "Sound Off" on the first Sunday in May when, at noon local time each year, fire sirens will sound for 30 seconds worldwide followed by a minute of silence in memory of those who have died in the line of duty.
In an effort to protect fire service personnel and the public, May 6th is National Wildfire Community Preparedness Day, which encourages everyone to plan and participate in risk reduction and wildfire preparedness activities to make their homes and communities safer.
"This is a time to recognize the men and women who leave their families and put themselves in harm's way to take care of others," FirstNet Senior Fire Advisor Mike Worrell said.
Worrell noted that while some firefighters are paid, many are volunteers. Regardless, he said, "All go out to assist residents on what may become the worst day of their lives. Their responses can be as heroic as saving someone from a burning building, or as simple as holding a child after a car wreck, or helping a grandparent off the floor. All are important, and all make our communities better places to live."
First responders live with the uncertainty of what can happen on a call, as well as the long-term hazards of their work, which for firefighters includes smoke-related cancers.
"Often there is no 'thank you,'" Worrell said of firefighters. "But on this day, we take time to thank you for your acts of kindness and your selfless heroism."
In other first responder recognition events this month, National Police Week, officially begins May 7th in Washington, D.C.
Richard Stanek, a FirstNet board member and sheriff of Hennepin County, Minn., said these recognition events are important not only to bring officers together, but also to represent the fallen.
"Last year, I was at Police Week and I sat on the stage and read a half dozen names of Minnesota law enforcement officers who died in the line of duty," said Stanek, an officer for 33 years. "It was humbling just to be there and an honor to represent those families and others who couldn't speak for themselves.
"These are America's heroes. They deserve to be recognized and celebrated."
As a sheriff, Stanek said, he has three main jobs: public safety enforcement, public safety service, and public policy advocacy. Regardless of any officer's job, he said, "To serve and protect is at our core."
The focus will turn to emergency medical professionals when EMS Week starts May 21th. FirstNet Senior EMS Advisor Brent Williams said the recognition is important for emergency medical professionals to support each other, and also to inform the public.
"EMS Week reminds us that emergency medical help is available at all hours, and that it is provided not only by career paramedics and EMTs, but also by thousands of unpaid community volunteers," Williams said. "Often, these local volunteer squads are the only EMS help for miles around."
Just because an EMT is a volunteer doesn't mean she is undertrained, Williams said. All EMS responders, at any of several training or licensing levels, have spent many months in training and continue to receive regular continuing education as part of their licensing requirements.
"We salute all EMTs but, in particular, those rural volunteers who give so much of themselves to protect their communities," Williams said.
The entire FirstNet organization extends our sincerest appreciation to all first responders and other public safety personnel for helping to give us a better and safer world.
Perhaps you know of other commemorative activities that are specific to your region, state or town. Let us know via Twitter. You can find us at @FirstNetGov or use the hashtag #FirstNet.