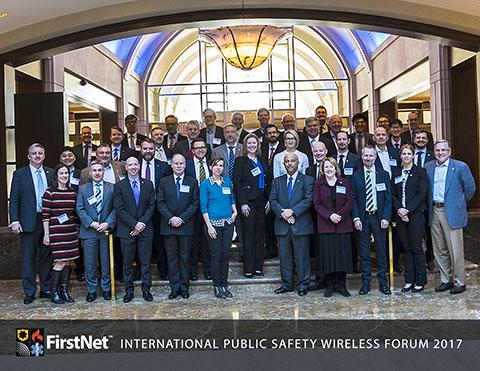 The following is a cross-post from the First Responder Network Authority (FirstNet) blog
By TJ Kennedy, FirstNet President
Americans are now learning about the public-private partnership between FirstNet and AT&T that is working to bring a dedicated, wireless broadband network to public safety nationwide ("FirstNet"). What they may not know is that other countries are pursuing similar nationwide systems and looking to FirstNet for best practices.
With that in mind, representatives of seven nations – Canada, United Kingdom, Korea, Australia, Sweden, Finland and Norway – attended the FirstNet International Public Safety Forum for Wireless Broadband here on March 16. The forum formalized discussions that grew out of other technology forums and requests to find ways to share lessons learned around the world.
At least 17 countries are considering some form of a nationwide LTE broadband network dedicated to public safety. What these nations have in common is the goal of bringing reliable high-speed wireless communications to public safety, whenever and wherever they need it.
Each of these nations has its own unique characteristics within its systems of government, politics, business, geography, population, and first responder needs, and each is at a different stage in the process:
The United Kingdom was the first to use a nationwide network for public safety by deploying a private TETRA system in 2000 with loaned spectrum to cover 97 percent of the country. The U.K. plans to begin transitioning to LTE broadband next year, with completion in 2020.
Like the U.S., Canada has reserved the same 20 MHz on the 700 MHz broadband spectrum. Canadian officials are in the discussion stages of the best roles for each level of government and the private sector. U.S. and Canadian representatives believe using the same swath of spectrum will enhance their cross-border coordination and cooperation and improve public safety responses near our common border.
Sweden, Norway and Finland each has a state-owned, nationwide, narrowband TETRA system but they plan to add high-speed LTE broadband for mobile use, with increased security and international interoperability.
South Korea last year began test-piloting its broadband network that is expected to improve security and interoperability and be fully operational in 2021.
Australia is in the discussion stages of how best to deploy a nationwide, public safety broadband network, particularly with the roles of public and private entities.
Each country must create a business model to meet its needs. There are many decisions to be made: How to create an affordable system? How to make it sustainable? How to cover the whole population, including remote areas? How to leverage existing infrastructure, owned both by government and commercial telecommunications?
These are the types of questions for which we will continue to share best practices with our international counterparts. The U.S. public safety community was instrumental from the beginning, fighting for dedicated broadband after the 9/11 Commission recommended it in 2004. FirstNet will be successful because law enforcement, fire, and EMS agencies all worked together to have one network and to focus all efforts on that shared network. FirstNet consulted with states, tribes, and public safety entities to ensure their needs were included in our RFP process, and FirstNet also conducted an unprecedented data collection effort from all states and territories to ensure their unique needs were included in our procurement. A critically important factor in our success will be our public-private partnership model to meet all of public safety's mission objectives.
The law that created FirstNet included many key provisions essential to the establishment of the FirstNet organization and deployment of the network:
FirstNet would be governed by a board with representatives from public safety, the wireless industry, and government.
FirstNet would receive up to $7 billion through proceeds generated from spectrum auctions as start-up funding.
FirstNet would hold an open, transparent, and competitive procurement to accept bids and enter into a public-private partnership to deploy, operate, and maintain the network.
20 MHz of bandwidth in the prime upper 700 MHz frequency range would be licensed to FirstNet and dedicated for public safety use but could be monetized through the secondary use of excess capacity when not needed by public safety.
The service would not be mandatory, but, rather, would need to be differentiated to encourage public safety to adopt the service and continue to use it.
There would be rural build-out milestones to push coverage farther.
FirstNet truly is for public safety, and by public safety. The Board is made up of a team of 15 highly-skilled, highly motivated leaders with a cross-section of expertise who are committed to making the nationwide public safety broadband network a success. FirstNet staff includes many with public safety and business backgrounds, including Mike Poth and myself. Additionally, the FirstNet Public Safety Advisory Committee, comprised of 43 associations representing all disciplines of public safety as well as state, territory, tribal, and local governments, regularly provides FirstNet with invaluable subject matter expertise and advice.
Because usage of the FirstNet network isn't mandatory, it depends on the support of public safety agencies to leverage the network. To make this happen, FirstNet has had a robust consultation and outreach effort that has reached all 56 U.S. states and territories, discussing how FirstNet can meet their needs.
FirstNet reached a major milestone when it formally announced its industry partner – AT&T – at a March 30, 2017, signing ceremony in Washington.
"Today is a landmark day for public safety across the country," U.S. Commerce Secretary Wilbur Ross said at the ceremony. "I cannot wait to see what the future holds for this unique partnership."
With our industry partner on board, FirstNet will develop customized state plans covering the buildout of the network in each state and territory, to go to the governors later this year. AT&T, which will lease the FirstNet spectrum, has pledged $40 billion to the buildout. To make the network self-supporting, AT&T will leverage the spectrum for both public safety and commercial users. When public safety needs priority and preemption, those commercial users will be shifted to different commercial areas of the spectrum.
AT&T CEO Randall Stephenson said he expects the buildout to begin in the fall, creating some 10,000 new jobs in the U.S. over the next two years.
For everyone who has been involved in FirstNet, there can be no question that this model for public-private partnerships will provide an amazing network for public safety communications for this generation of first responders and the next generation.