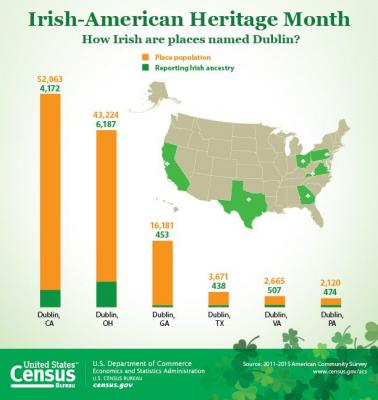 Congress proclaimed March as Irish-American Heritage Month in 1991, and the President issues a proclamation commemorating the occasion each year.
Originally a religious holiday to honor St. Patrick, who introduced Christianity to Ireland in the fifth century, St. Patrick's Day has evolved into a celebration of all things Irish. The world's first St. Patrick's Day parade occurred on March 17, 1762, in New York City, featuring Irish soldiers serving in the English military. This parade became an annual event, with President Truman attending in 1948.
Following are a few key statistics compiled by the U.S. Census Bureau in honor of St. Patrick's Day and Irish-American Heritage Month:
32.7 million or 10.2%
The number and percentage of U.S. residents who claimed Irish ancestry in 2015. This number was more than seven times the population of Ireland itself (4.6 million). Irish was the nation's second-most frequently reported European ancestry, trailing German.
20.2%
The percentage of Massachusetts residents who claimed Irish ancestry in 2015. New Hampshire, at 20.6 percent, was the only other state in which at least 20.0 percent claimed Irish ancestry. (The rates for the two states were not statistically different from each other.) California had 2.5 million people who claimed Irish ancestry, which was the highest of any state. Two other states — New York and Pennsylvania — also had more than 2.0 million Irish-Americans.
201,530
The number of Irish-Americans living in Chicago in 2015, the location of one of the nation's most renowned St. Patrick's Day traditions: dyeing the Chicago River green. Chicago's Irish-American population was second among cities only to New York (357,147), home to the world's oldest and largest St. Patrick's Day parade. Philadelphia was third at 176,725.
15
The number of places (incorporated places and census designated places) or county subdivisions in the United States that share the name of Ireland's capital, Dublin. The most populous of these places in 2015 was Dublin, Calif., at 57,721.
20,590
The estimated number of U.S. residents who spoke Irish Gaelic. All except about 2,500 of them also spoke English "very well."
23.7 billion and 2.2 billion
The number of pounds of U.S. beef and cabbage production, respectively, in 2015. Corned beef and cabbage is a staple at St. Patrick's Day celebrations.
For more fun facts and key demographic and economic statistics, please see the U.S. Census Bureau's Facts for Features: Irish American Heritage Month and St. Patrick's Day: 2017.