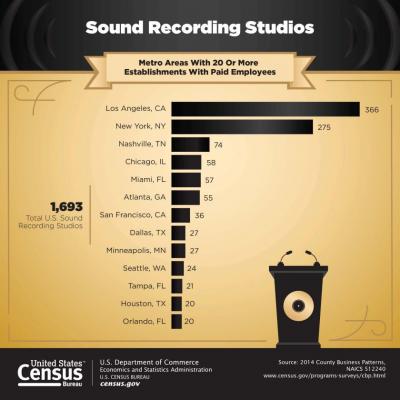 Just in time for the 59th Annual Grammy Awards, the U.S. Census Bureau compiled various statistics covering sound recording studios, artists, writers and more. The 59th Annual Grammy Awards will be held on February 12, 2017, at the Staples Center in Los Angeles and will recognize the best recordings, compositions, and artists for 2016. A Grammy Award, or Grammy, is an honor awarded by The Recording Academy to recognize outstanding achievement in the music industry.
Following are a few of the latest statistics related to the recording and entertainment industries. 
1,693
The total number of sound recording studios in the United States.
Sound recording studios - This industry comprises establishments primarily engaged in providing the facilities and technical expertise for sound recording in a studio. This industry includes establishments that provide audio production and postproduction services to produce master recordings. These establishments may provide audio services for film, television, and video productions.
65,350
The total number of musicians, singers and related workers in the United States.
66,723
Estimated number of media and communications equipment workers, including broadcast and sound engineering technicians and radio operators in the United States.
For more statistics related to the entertainment industry including promoters of performing arts, agents and managers for entertainers and independent artists, writers and performers, please visit the latest issue of the U.S. Census Bureau's Facts for Features: Grammy Awards.