Deputy Assistant Secretary for Intelligence and Security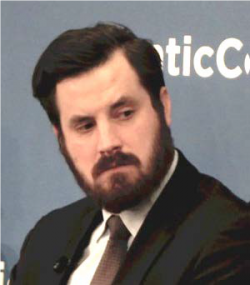 John was most recently the Senior Director and Lead, Task Force Two at U.S. Cyberspace Solarium Commission, and was appointed as the Senior Advisor to the Director of the Cybersecurity and Infrastructure Security Agency. 
He formerly served as the Director of Strategy, Policy, and Plans for the National Protection and Programs Directorate at the Department of Homeland Security (DHS), formerly serving as the Senior Advisor to the Assistant Secretary for Cybersecurity and Communications. Before joining DHS, he served as a Congressional Innovation Fellow for majority staff in the U.S. House of Representatives Committee on Oversight and Government Reform. 
During his time on the Hill, he helped investigate the 2015 cyber breach of the Office of Personnel Management and helped oversee federal IT security. Previously, he was a research analyst at Defense Group Inc., where he concentrated on Chinese cyber espionage, information warfare, and intellectual property theft. 
Costello is a U.S. Navy veteran, serving under the National Security Agency and U.S. Cyber Command. He is fluent in Chinese Mandarin, graduating with honors from the Defense Language Institute. He also holds degrees from the University of Maryland University College and Santa Fe College.
John's insights have appeared in Wired, Wall Street Journal, New York Times, Reuters, and Jamestown China Brief. His previous research has focused on state conflict and stability in cyberspace, Chinese cyber operations, and the intersection of cybersecurity, critical infrastructure, and national security.