Under Secretary for Export Administration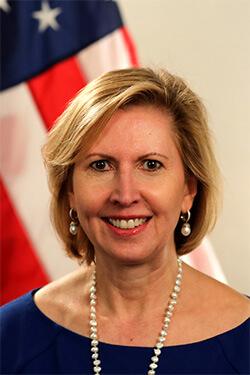 Under Secretary of Commerce for Export Administration, Bureau of Industry and Security Mira Ricardel is a recognized leader in matters of national security policy and operations with extensive experience in the US Government at the Departments of Defense and State, and on Capitol Hill, as well as in the private sector as a senior executive in the aerospace sector.
After the November 2016 Presidential election, Ms. Ricardel led the Department of Defense Transition Team, and following the Inauguration of President Donald Trump was commissioned at the White House as Special Assistant to the President in the Office of Presidential Personnel.
For nearly a decade, Ms. Ricardel headed business development teams focused on current and future markets for missile defense, satellites and cyber security as a Vice President at The Boeing Company. In this capacity, she led the development of strategies to meet short and long term business objectives of the multi-billion dollar Network & Space Systems business unit of Boeing Defense, Space and Security, to include oversight of funding for research and development projects.
Prior to joining The Boeing Company, Mira Ricardel had a distinguished career in the development of U.S. national security programs and policies, serving as Acting Assistant Secretary of Defense for International Security Policy and Deputy Assistant Secretary of Defense for Eurasia. She was principal adviser to the U.S. Secretary of Defense on matters related to Europe, Eurasia, Russia, NATO, nuclear forces, missile defense, counter-proliferation and arms control. In the aftermath of 9/11, Ms. Ricardel played a central role building support for U.S. and coalition operations among governments in the Caucasus, Central Asia and the Balkans. On July 14, 2005, she was awarded the Pentagon's highest civilian service award, the Department of Defense Medal for Distinguished Public Service.
During her career, Ms. Ricardel served seven years as Legislative Assistant for Foreign Policy and Defense in the Senate Republican Leader's Office and as Foreign and Defense Policy Adviser on the Dole for President Campaign. She also held the position of Vice President of Programs at Freedom House, a non-profit organization.
Ms. Ricardel is a graduate of Georgetown University where she earned a Bachelor of Science Degree in Foreign Service, magna cum laude. In addition she completed doctoral course work at The Fletcher School of Law and Diplomacy at Tufts University. She is a member of the Council on Foreign Relations.