Assistant Secretary for Communications and Information and NTIA Administrator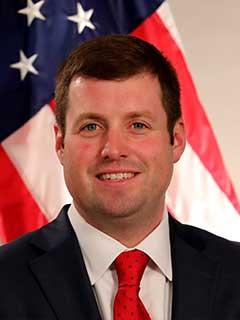 David J. Redl was sworn in as Assistant Secretary for Communications and Information at the Department of Commerce on November 21, 2017. He serves as Administrator of the National Telecommunications and Information Administration (NTIA), the Executive Branch agency that is principally responsible for advising the President on telecommunications and information policy.
Redl is a lawyer and communications policy expert with more than a decade of experience in government and the private sector. He was previously the chief counsel at the U.S. House of Representatives Committee on Energy and Commerce. In that role, he served as the principal legal advisor to the chairman and members of the Energy and Commerce majority on communications and technology matters. Prior to his time with the committee, Redl was director of regulatory affairs at CTIA, a trade association that represents the U.S. wireless communications industry.
Redl earned his J.D. from the Catholic University of America with a certificate from the Institute for Communications Law Studies, and he is a graduate of Pennsylvania State University with degrees in journalism and political science. Redl is admitted to the New York and District of Columbia bars. He lives in Falls Church, Virginia, with his wife, Amy, and their son, Benjamin.